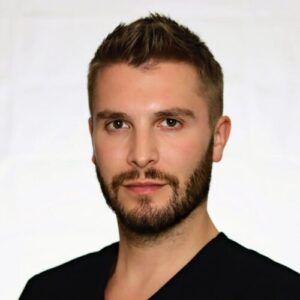 Dr Alexander Parys, MBChB, Associate Member of the British College of Aesthetic Medicine (BCAM) and Aesthetic Complications Expert (ACE) World Group.
Dr Parys worked within the NHS for nearly a decade, but is now dedicated solely to aesthetics.
Dr Alex is also a trainer of medical professionals in fillers, as well as a published author for an aesthetic textbook chapter, "Decision Making in Aesthetic Practice", released by CRC Press in October 2021. He has contributed to several Aesthetic Journal articles, including topics such as Ultrasound in Aesthetics and Managing Complications in A&E.
Dr Parys has a keen interest in aesthetic complication management, body contouring treatments, and was featured as an expert on the Aesthetics Insider website for fat dissolving injections.
Dr Parys was the Aesthetics Awards winner 2021 for "Rising Star of the Year", which aimed to recognise the doctor, dentist or nurse who was deemed to have contributed most to the profession in the last 12 months.
He is based in the North West of England, with clinics in Manchester and Cheshire.